The Neighbors Coffee

with locals

"From farms to cafes, Coffee made by Good Neighbors and the local community"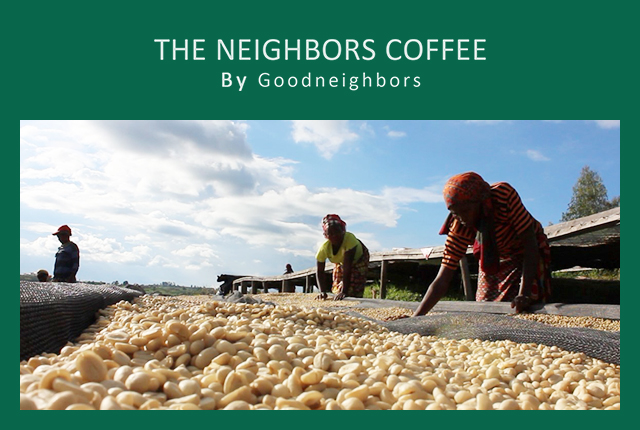 Coffee is known as a 'cash-crop' which can improve coffee farmers' standard of living, but quite often fair wages and decent working environment
for farmers are not guaranteed. The brand "The Neighbors Coffee" was created not only for the continuance of economic activity and sustainability of
local coffee farmers, but also to improve the quality of beans and secure sales channels for the coffee growers.
Good coffee made by Good Neighbors
'The Neighbors Coffee'
We have a local processing facility to directly purchase and process good quality coffee cherries purchased directly
from farmers and cooperatives to produce green beans.
We dispatch professional to maintain the produce in a high quality, and help them to stay competitive in the market
by strengthening their capacity via educating local residents.
Increasing income through coffee production
In the case of the Rwandan social enterprise Café de Gisagara established by Good Neighbors, We provide training on coffee cultivation and support cash
flow of coffee cherries to help our members to grow and trade coffee stably.
Sustainable coffee brand
We import locally processed, high-quality green beans and sell them domestically and overseas. The generated profit is reinvested for the sustainable
economic independence of local coffee growers. We provide technical trainings for bean quality improvement and support equipment purchases to increase
farmers' household income.
PRODUCTS OVERVIEW
Coffee Business Area

We have established social enterprises related to coffee
processing in Rwanda and Guatemala and plan to expand
the business to Ethiopia and Indonesia.

Cafe Business

We have cafes(Seoul and Incheon city), and use the generated
profit for the economic independence of coffee growers in the
countries where we work.